February
Our Washington Angels are busy working on projects that will deliver an embrace of love and gratitude to our Hospitalized Veterans, Fisher House families, Wounded and the Deployed this month. It's still not too late to join in the effort! Along with Valentines Day, National Salute to Hospitalized Veterans week is Feb 10-15. A little visit from you goes a long way to say..you're not forgotten and we are steadfast in our gratitude and support.
February volunteer opportunities:
Feb 13 4:30pm - American Lake VA Valentine visit Bldg 200 -
Feb 14 3pm - Puget Sound VA Fisher House (Seattle) Valentine Bing0
Feb 15 10:30am - Puget Sound VA visit (TBC)
Feb 16 11-4pm - Salute to Military Kids Pierce college -Lakewood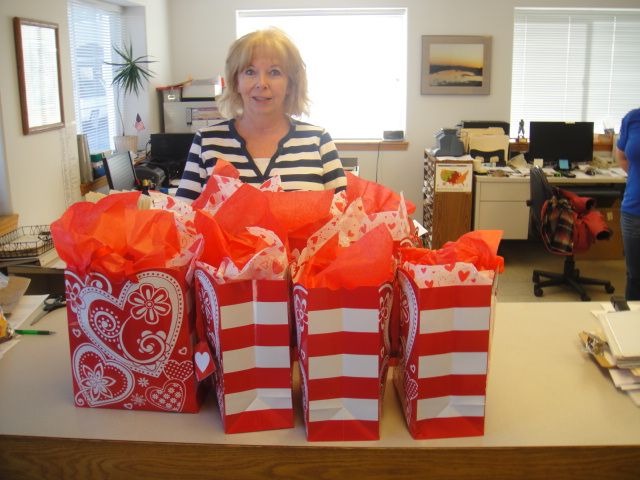 Angel Kathy has been busy making these wonderful gift bags for our Fisher House families. You can still add to these by sending gift cards, Valentines or other treasures -email for addresses. We also still need a volunteer for the Feb 14 3pm Valentine Bingo at Seattle Fisher House.
Our angels in Vancouver Washington just recently had a wonderful Angel Potluck where great hearts & minds came together!! Wingtip to Wingtip angels!
Amazing angels! Thank you angels for all of your time and love that you've given with everything you do for our wounded, veterans & Military families.
Angel Tami & her Golden Wing Award
Below is April from the
Compass Veteran's Center
holding some of the beautiful blankets the Vancouver Angels made for the children of homeless veterans currently in transitional housing at the Center. Help from many people and these angels (A special thank you to the two Debbie's for delivering the goodies in time for Christmas) We have also just sent another truckload of toys, books and donations that we hope the children and families will enjoy! Thank you all for your participation in this outreach!
".....
I wanted to let you know the blankets, hat and scarves, toys, kitchen items, craft supplies etc. were very well received. The children have made some thank you cards for all the wonderful volunteers at Soldiers Angels.
April

Aiken"
Love & support continues.... Email to see how you can help... jmorelli@soldiersangels.org