Our Washington Angels have been busy this spring, starting with the National Salute to Hospitalized Veterans in Feb. Our Angels, Jo, Milton, Debbie, Linda and Tracy visited Veterans at the Puget Sound VA -American Lake and Seattle Divisions. They spent time visiting, handing out flowers, candy, and cards.
Flowers donated by Angel Linda for our Veterans at Puget Sound VA -Seattle Division
Our Vancouver area angels made meal tray cards for our American Lake Veterans as well and continue to have card making workshops each month. Deployed troops received Coffee and Valentines!
American Lake Voluntary Service Specialist Rex with Angel Jean & Tray Cards
Next came the Annual Task Force Phoenix Wounded Warrior Chili Cook off. Angels Debbie Roper and Colleen Logan woke with the birds and drove two hours to cook delicious Breakfast Burritos for wounded warrior participants at the WTB. Newly transitioned wounded warrior Jesse and his service dog Ellie braved the cold and helped at the grill. A huge thanks to Angels Colleen & Debbie for their dedication and enthusiasm despite the cold weather and early morning start time. Also a big thank you to Soldiers' Angels for sponsoring 8 of the wounded warrior teams, allowing more soldiers the opportunity to participate in this morale event.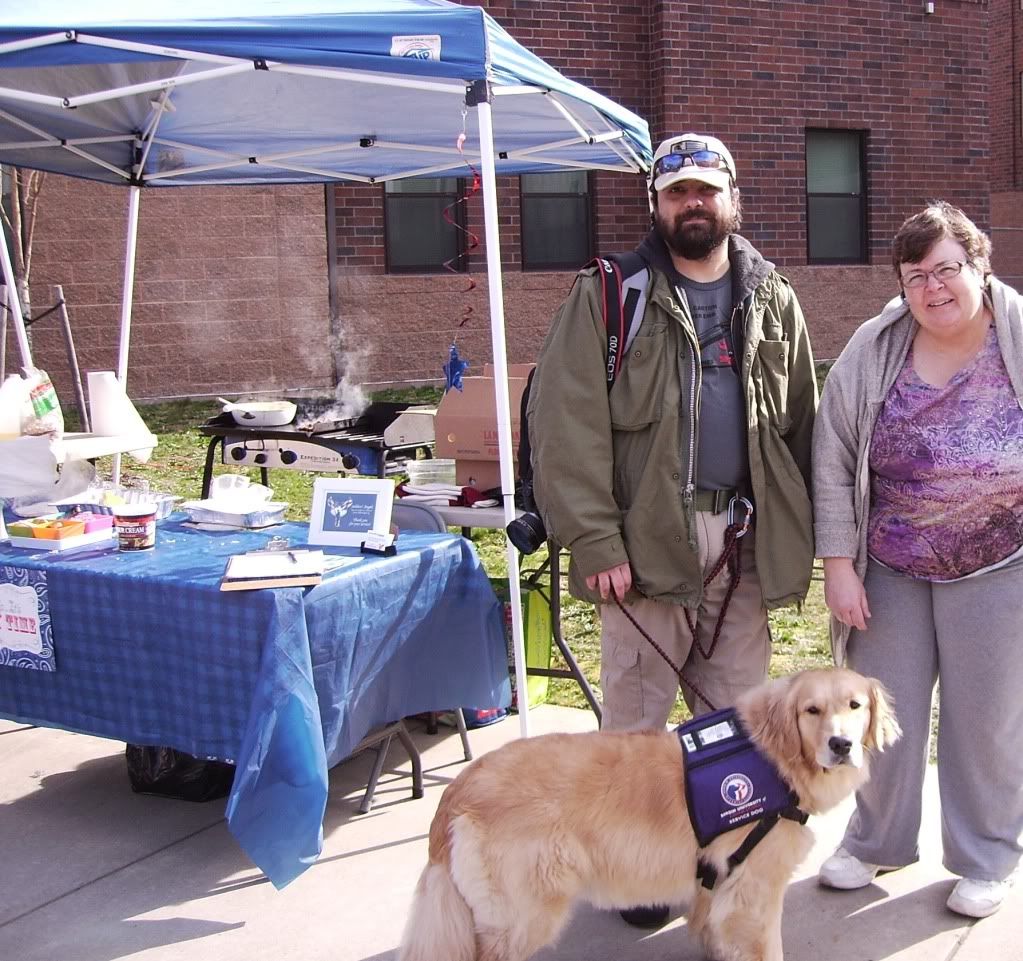 Jesse, Ellie and Angel Colleen
Soldier enjoying an Angel Burrito compliments of Debbie, Colleen, Jesse and La Mexicana!




Our WTB angels, Erin, Debbie, Lizzy, Colleen, Jill and Tracy have been sending planning emails back & forth to confirm a menu for the April Easter dinner for our Wounded Warriors, and an Easter Visit is confirmed for the American Lake division of the VA Puget Sound HCS. Our angel Dawn already has stuffed 170 Easter Eggs so far! Whatcom County Angel Peggy Uppiano has been working on applying for Walmart grants for Washington and we are waiting on a possible Grant from State Farm Insurance . Our fabulous angel Lizzy submitted her volunteer hours so we are keeping our fingers crossed.


Next month we will be hosting a Mother's Day luncheon for the moms of the VA Puget Sound Fisher House, complete with gift bags generously donated by author and 'angel' Melissa McClone. Melissa canvassed her fellow authors who have mailed in books and other gifts to fill up the totes that people have purchased from "Thirty One" as their donation to the project! There will also be enough totes & goodies for the JBLM FH Moms.